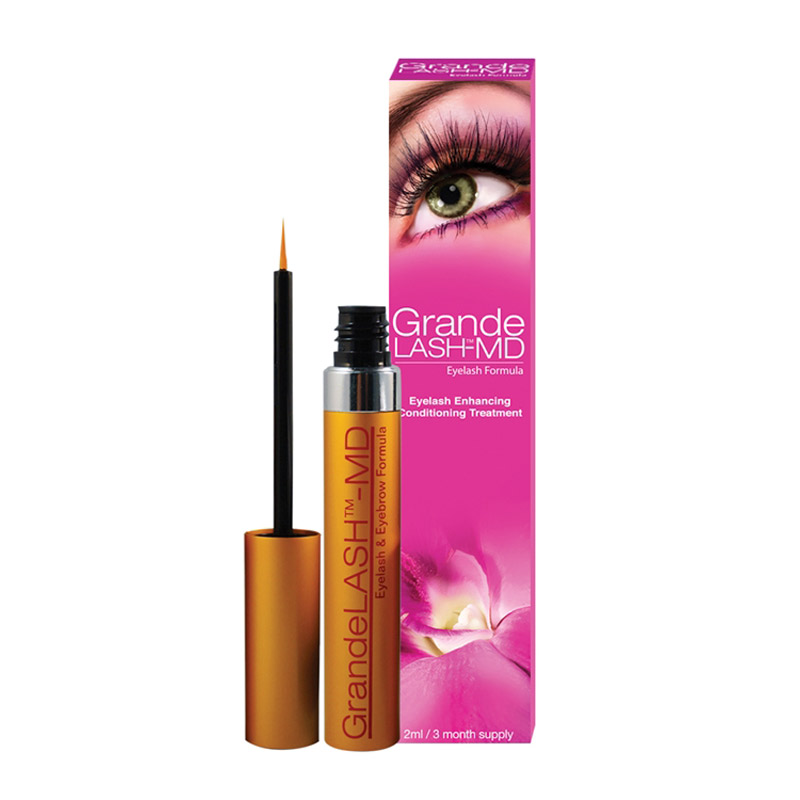 The product was released in 2007. It achieved a huge success by winning plenty of awards and merits as it attracted a huge amount of sympathisers. It is a pure vitamin bomb for eyelashes. Moreover, Grande Lash is good at nourishing and delivering vitality to eyelashes. The effects are noticeable after 4-6 weeks of Grande Lash lash growth serum application. According to the producer, the beauty product is able to extend and improve density of eyebrows as well. Another advantage to mention, the cosmetic was tested by ophthalmologists too.
How to use it?
The first step, make-up has to be completely removed using a lotion or any other cosmetic of similar action. Next, put on Grande Lash lash growth serum as if you were applying an eyeliner (right next to eyelash root line). Use only a single smooth motion. Do not repeat the action, and do not apply too much of the cosmetic. You must not rub the eyes. Let the cosmetic get absorbed and just go sleep soundly.
How does it work?
Natural anti-oxidants protect eyelashes and their bulbs against harmful impact of the external environment as they shield the little hair against invasive treatment (i.e. violent rubbing during make-up removal). What is more, the beauty product improves microcirculation and repairs damaged eyelashes and eyebrows. Grande Lash lash growth serum delivers moisture and nourishes eyelashes due to great concentration of glycerine and grape seed oil.
What effect does it produce?
Indeed, eyelashes look more moistened and nourished as they become visibly darker. However, do they become thicker? It is rather questionable since there are as many positive as negative feedbacks on the Grande Lash lash growth serum performance. The same concerns eyelash length – Grande Lash seems to pick the lashes it wants to improve and the ones which will be left untouched. With this in mind, our eyelashes might become spectacular and beautiful or only… moistened. Is it worth spending this amount of money on a cosmetic which delivers shaky effects? The choice is yours.
Luckily enough, the producer claims that the money will be refunded once Grande Lash lash growth serum does not fulfil its mission.
What is inside?
Grande Lash lash growth serum contains mainly glycerine, B5 vitamin and already mentioned grape seed oil, ginseng oil, and yeast extract. The unpleasant surprise is phenoxyethanol alcohol – suffice that glycerine is alcohol and when used too frequently, the outcomes it produces are adverse to the ones looked-for. In other words, instead being moistened, eyelashes are gradually deprived of water. So what is the reason of applying another highly hydrating substance? Additionally, the cosmetic also contains 'sorbitol' – a preparation of comedogenic action (the substance clogs skin pores).
How does it look like?
The box of Grande Lash lash growth serum looks rather kitschy. It looks as a cheap-jack product bought on a bazaar. It is pink, with a flower at the bottom and a woman eye at the top of the box. The bottle is gold with a silver stripe and a red inscription. In general, the bottle looks rather crummy and does not win trust.